Trevor Cobbold on equity, public education and the role of private schools
Interview by John Graham
Trevor Cobbold is National Convenor of Save Our Schools. He worked as an economist for the Productivity Commission and its predecessors for over 30 years. His research publications on school funding, the public education system and private schools are widely used across Australia by a range of organisations and the media.
JG  What is your professional/ work background and how did you come to be such a strong advocate for public education?
TC  I worked as an economist for the Productivity Commission and its predecessors for over 30 years before retiring. In this role, I gained a lot of experience as a researcher and policy analyst.
I got involved in public education by joining the Parents and Citizens Association at our local public school when our first child started school. I then became a delegate to the ACT P&C Council on which I served for 20 years representing our local primary school, high school and college over those years (students in Years 11 and 12 in ACT public schools attend colleges). I was a member of the Council Executive from 1987 to 2005 and was honorary Secretary of the Council from 1988 to 2000 and Vice-President from 2001-2003. I believe parents should have a strong voice in public education issues and policy.
JG  What is the background to Save Our Schools? When and how and why was it established?
TC  Save Our Schools was established in July 2006 in response to a proposal by the ACT Labor Government to close 39 public schools and pre-schools and sell-off the sites for development. SOS ran a vigorous public campaign against the proposed closures which saved 18 schools and pre-schools and 16 of the closed sites were retained for community use. 
The campaign meant SOS had a huge public profile in Canberra and after the school closure issue died down we decided to take advantage of this to advocate for public education and greater equity in education locally and nationally. We took on this broader role in 2008.
SOS is a purely voluntary organisation and does not have any formal ties with other education organisations.
JG  How does Save Our Schools view equity in education?
TC  Save Our Schools has adopted a unique concept of equity in education. We reject the widely used principle of equality of opportunity in education as a meritocratic concept that legitimises inequality in education. Equality of opportunity means equal chances to become unequal and is therefore a recipe for continuing inequality. It serves to mask continuing privilege because it is children from families with the financial, education and cultural resources behind them or with position and power in the society that benefit the most from the application of this concept.
In contrast, SOS has adopted a dual concept of equity in education outcomes that incorporates both an individual and a social group aspect.
The first principle of equity in education is that all children should receive a minimum level of education that gives them the capacity to function as independent adults and to participate effectively in society. All children have the right to a high quality education that equips them with the knowledge, understandings and skills to create their own meaning in the world, to choose their own path in society as adults and to take an active part in shaping the development of society. This is a matter of justice for all individuals. Achieving an adequate education in today's society means at least completing Year 12 or its equivalent.
However, achieving an adequate education for all children is not a sufficient condition to achieve equity in education. Even if all children achieved an adequate education there could still be vast differences in outcomes between children from different social groups. For example, average outcomes of students from high income families could still be much higher than for low income and Indigenous students.
The second principle of equity in education means equality of outcomes between children from different groups in society (gender, class and ethnicity). While it is unreasonable to expect that all children will achieve the same education outcomes because, as individuals, they have a range of abilities and talents which lead to different choices in schooling, it is reasonable to expect that these different abilities and talents are distributed similarly across different social, ethnic and gender groups in society. Therefore, education outcomes for children from different social groups should be broadly similar. For example, low income and Indigenous students should achieve similar average results and a similar range of outcomes as do high income students. There should be no achievement gaps between rich and poor. This is a matter of social justice.
Social inequality in education matters because it contributes significantly to the social reproduction of privilege and disadvantage. It deepens social divisions and social hierarchies. It leads to social discrimination in access to high status occupations and positions of power and influence in society.
JG  How does Save Our Schools further its agenda of educational equity? For example, I know people in our organisation find your summaries of the latest research on various aspects of education very useful in our own advocacy.
TC  The fact that the AEU Victoria finds our research valuable is re-assuring. It shows that we are fulfilling the role we set ourselves which is to provide resources for public school organisations and others. Many regard SOS as a lobby group but in fact we don't do much lobbying. At the time our role changed, we recognised it was more important to concentrate on providing high quality research and policy analysis than continuing as a campaign or lobbying organisation.
We try to influence the policy agenda by highlighting the extent of inequity in education and the factors sustaining inequity as well as proposing policies to reduce inequity.
JG  What can be done to strengthen the advocacy base for public education?
TC  Research and policy development are important to any advocacy, but one of the biggest problems as I see is the neglect of long-term alliance building for public education between teachers, parents and other community organisations. Too often it is ad hoc and therefore not sustained beyond a particular issue or election campaign.
This problem will not be solved by a top-down approach, by just issuing joint statements at the national or state levels, although this can serve to show unity. Effective advocacy for public education in the long term depends on building alliances at the local school level – it means sub-branches of teacher unions and P&C Associations talking to each other. It means working at overcoming policy differences and emphasising what teachers and parents can agree on to further public education and improve equity in education. Improving equity in education can also be furthered by teachers and parents engaging with other community groups around education and social policy issues. All this requires organisation at the local, state and national levels.
JG  The level of educational equity in Australia would seem to be directly linked to the health of the universal public education system. What's your view about how our public schooling system has been travelling over the past few years?
TC  The public education system in Australia has done an incredible job despite the perennial lack of resources. Public schools do as well as private schools when differences in their socio-economic profile are taken into account. This success demonstrates the commitment public school teachers have to their students.
JG  What do you see as the greatest threats (actual and potential) to public education?
TC  The current funding regime. Government (Commonwealth and state) funding increases have massively favoured private schools over the past 20 years and more.  For example, since 2009 government funding (adjusted for inflation) for Catholic and Independent schools increased by over five times that for public schools. Catholic school funding increased by $1,620 (21%) per student and by $1,603 (25.4%) for Independent schools compared to only $306 (2.9%) per student in public schools.
As a result, Catholic and Independent schools are far better resourced than public schools in every state even though public schools enrol over 80% of all disadvantaged students and 95% of all disadvantaged schools are public schools. In 2018, the average total income per student in public schools in Australia was $14,940 compared to $23,029 per student in Independent schools and $16,401 in Catholic schools.
This resource gap is set to widen dramatically. The Morrison Government has abandoned public schools and is blatantly favouring private schools with special billion-dollar funding deals over the next decade. Commonwealth funding for Catholic schools will increase by five times that for public schools and funding for Independent schools will increase by nearly three times that for public schools.
The current Commonwealth/state funding agreements ensure that public schools will only ever be funded at 91% of their Schooling Resource Standard (SRS) at best while private schools will be funded at or over 100% from 2023.
JG  What do you think now needs to be done to sustain and enhance public schools around the country?
TC  Setting a clear policy objective is a key first step. The fundamental challenge facing the Australian education system is to increase equity in education – to ensure that all children receive an adequate education to effectively participate in adult society and to ensure social equality in education outcomes between different social groups. We must aim to ensure that low income, Indigenous and remote area students achieve the same average and range of results as high income students. This goal provides a measure of progress for education systems.
Better funding for public schools is fundamental to achieving this goal. Funding is not the whole answer, but it is fundamental to employing teachers and support staff as well as adequate educational materials and infrastructure. This means more funding directed at disadvantaged students and schools to enable them to employ more teachers, better qualified teachers, student welfare professionals and the educational materials and infrastructure necessary to better support the learning of these students. It also means ensuring that all children have access to quality pre-school education.
JG  A clear policy goal should be greater equity –What do you think the role of non-government schools in Australia is? What is the problem with their existing role?
TC  Private schools, with government funding assistance, serve to socially segregate the population and to provide a differential status system in education. The so-called elite schools serve to reproduce wealth and power in society. They aim to educate future leaders in government, business, law, etc.
Private schools also segregate children by religion. This undermines social tolerance, understanding and cohesion.
Government funding should aim at reducing social segregation in society not promoting it as it does now. Government funding of private schools should be restricted to supporting under-resourced schools to an accepted community standard. It should only fill the gap between the income from fees and other sources of income and the community standard.
However, the full difference between private sourced funding and the community standard should only be provided to private schools that meet similar social obligations as public schools - that is, schools that adopt inclusive, non-selective enrolment practices and provide access to a comprehensive curriculum.
Government funding should not enable private schools to have a resource advantage over public schools as is the case now. Private schools have a huge resource advantage over public schools because of government funding. This over-funding amounts to billions of dollars each year and should be re-directed to supporting disadvantaged students and schools.
JG  What's your view about the interconnection between government social and economic policies and educational equity?
TC  While a high-quality public education is critical to the achievement of social equity in education outcomes, it cannot be achieved without change in other factors that affect school outcomes. Education policy must proceed in conjunction with economic and social policies designed to reduce inequality. Disadvantage is constantly reproduced in society through poverty, low incomes, unemployment, lack of affordable housing, poor health, inadequate access to early childhood services and education and other factors. Schools are in a constant battle against the reproduction of inequality and poverty in society. Their efforts must be supported by economic and social policies to reduce growing inequality and poverty.
JG  You keep up-to-date with relevant educational research being carried out in Australia and around the world. What are some of the particularly important research findings you have come across this year?
TC  The OECD's PISA 2018 results on the distribution of human and material resources between schools is a veritable gold mine for highlighting inequity in education resources between advantaged and disadvantaged schools, public and private schools and metropolitan and rural schools. These results reveal that Australia has one of the most inequitable education systems in the OECD.
Several new research studies on school funding have demonstrated that funding matters for education. In particular, new studies confirm that increasing funding for disadvantaged schools improves school outcomes. Some 27 research studies published since 2015 show that funding matters for education outcomes.
---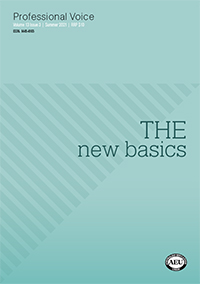 John Graham is editor of Professional Voice and works as a research officer at the Australian Education Union (Vic). He has been a secondary teacher, worked on national and state-based education programs and in the policy division of the Victorian Education Department. He has carried out research in a wide range of areas related to education and training. He has had particular responsibility for the many issues impacting on teachers and teaching as a profession, teacher education, curriculum change, and the politics, organisation and funding of public education.
This article appears in Professional Voice 13.3 The new basics.