Image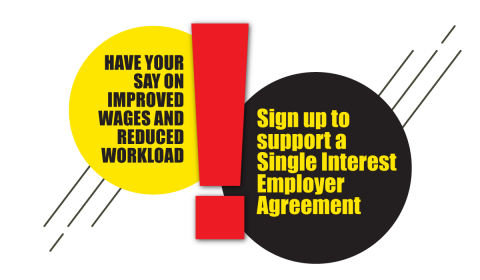 Support the petition for a Single Interest Employer Agreement. Campaigning together, we can achieve better pay and conditions.
Right now, TAFE members are stuck on an outdated workplace agreement that limits your ability to take action to get the improvements you need and deserve. And it seems that TAFE employers want to keep it that way. 
But, thanks to new workplace laws, we have the power to change this.
Tell your employers: TAFE teachers want a Single Interest Employer Agreement that covers all teachers, senior educators, and educational managers in all Victorian TAFE institutes.

A Single Interest Employer Agreement will allow all TAFE members and their colleagues to step up and take action together.

Show TAFE employers that you won't back down until we secure a deal that addresses your key issues and gives you the respect you deserve.
---
Your log of claims
At the start of 2022, AEU TAFE members were clear about the key issues to be addressed in negotiations for a new agreement.
Excessive workloads
You called for a reduction in teaching hours, an increase in preparation time, shaved hours addressed, and in-class assessment acknowledged as teaching.
 
Secure employment
You want to see more ongoing full and part-time positions, along with improved arrangements for casual teachers, and a review of the use of 'industry expert' casuals.
 
Qualifications
You want to be recognised for your skills, knowledge and experience, and see proper acknowledgement of the importance of education and vocational qualifications for high-quality teaching and learning.
 
Pay rises
You want the role of TAFE teachers to be valued and respected and for this to be rewarded through improved salaries that reflect your worth.
View the full Log of Claims here.
Campaign resources
Here's a handy campaign fact and FAQs sheet.
You can download an A3 size printable poster here.
And here you can download a printable A4 flyer.
AEU member emails
The campaign can move quickly, so our main way to update members is via email. If you haven't been receiving our member emails, please check your junk folder and select 'not junk'.